Regular price
$35.95 USD
Sale price
$17.95 USD
Unit price
per
Sale
Sold out
Low in stock, ready to ship
*FLASH SALE*
GET 50% OFF TODAY!
(Flash Sale Expires at 11:59pm PST or When Out Of Stock)
Never make a spill again or a mess on the floor! Take it everywhere with you!.
"bought this for my 3 year old and she loves it, super easy to take apart and put back together to clean. I totally recommend it"
⭐⭐⭐⭐⭐
Kira Brookins ✅

 
Verified Buyer
This very functional and amazing Spill-Proof Kids Gyro Bowl™ 2.0 allows your baby to have fun eating and minding their own business without spilling anything. You don't have to worry about your baby making spill or tipping over the bowl. Make eating for your baby a lot more fun with more freedom for them to explore and learn.
This Gyro Bowl is anti-spill due to its 360 degree rotating feature that allows your baby to be careless while holding the bowl and still being not to spill anything. Let them crawl, walk, run, or climb while and never make a spill. 
 Reasons Why Spill-Proof Kids Gyro Bowl™ 2.0 Will Change Your Life.
✅ DYNAMIC AND ROTATES 360: Its ergonomic design creates the bowl to rotate 360 degrees in any direction. So when your baby tilts it to one side, the contents of the bowl will not be spilled.
✅ VERY EASY TO CLEAN, easy and fast to clean as 1,2,3. The center bowl can be removed from the hinges, so that everything can be washed thoroughly and let it air dry. 
✅ EASY TO CARRY & FOR ON-THE-GO, Spill-Proof Kids Gyro Bowl™ 2.0 is very light weight so you can carry it anywhere with you. Its handles provide extra grip for your baby. It also comes with a lid, so that you can put it in your diaper bag anywhere you go!.
✅ BPA FREE & SAFE TO USE: This bowl is BPA free which makes it safe for your baby to use and eat from. Its design make it very safe for babies to use and carry without any problems. Your baby will not make a spill.
Want to say bye to all the spills and mess you baby leaves behind? Allow us to help let your baby walk and run around with a bowl of their favorite snacks without making a mess. The Spill-Proof Kids Gyro Bowl™ 2.0  is the solution to cleaning less spills and messes.
With the Spill-Proof Kids Gyro Bowl™ 2.0, your baby can eat their favorite snacks anytime and anywhere without tipping over or throwing food. It is time to let them have fun eating anywhere they want.
✅ Let's say NO to any more spills, invest in your Spill-Proof Kids Gyro Bowl™ 2.0.
Dimensions :

whole bowl: 17cm x 17cm
smaller inner bowl : 9cm x 9cm
weight: 137 g
View full details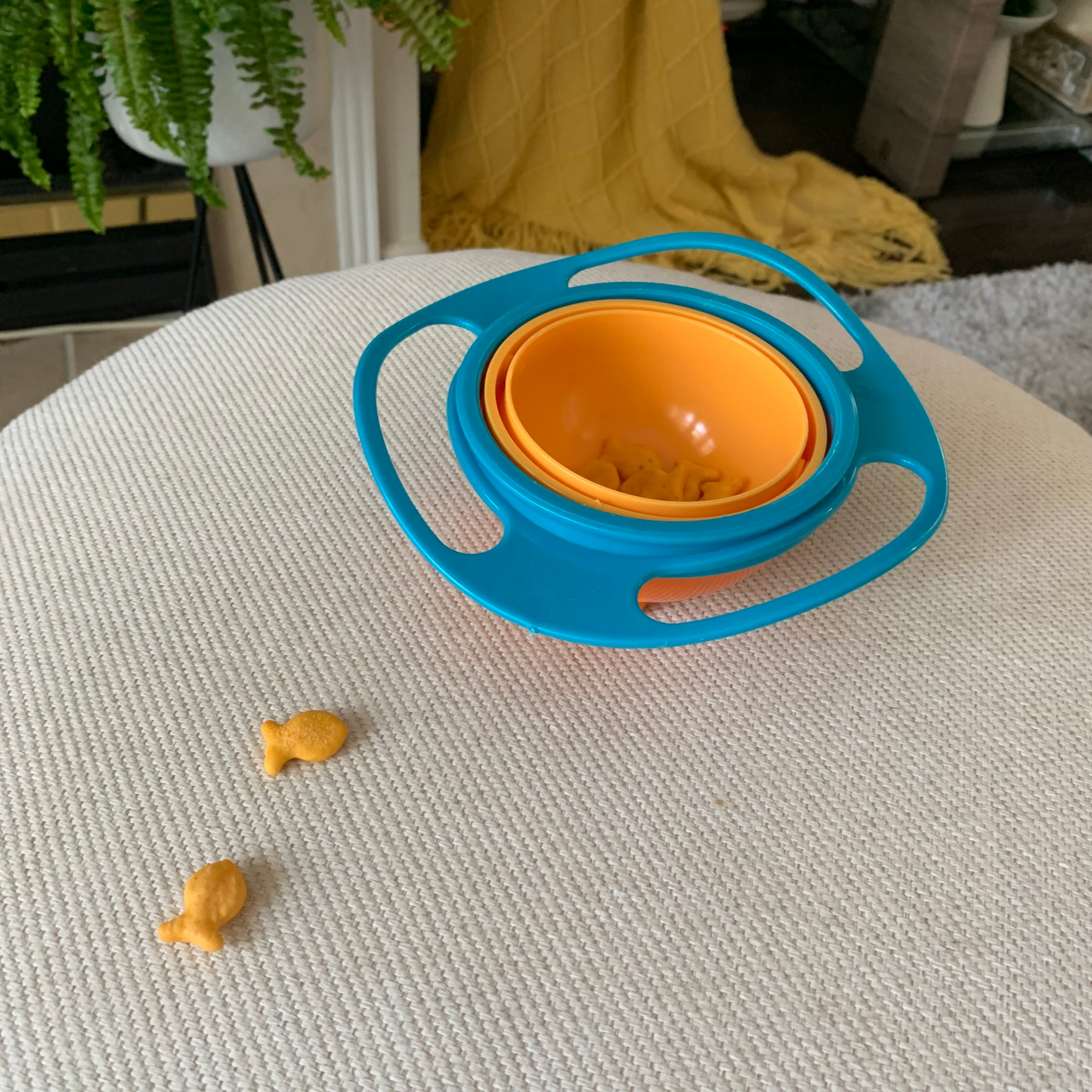 Free Shipping

🚚 Enjoy our free shipping*

100% Satisfaction Guarantee

Experience worry-free shopping with our satisfaction guarantee, providing you with a peace of mind and confidence in your purchase.

Customer Support 24/7

Shop with ease with our 24/7 Customer support team ready to assist you with anything you need.